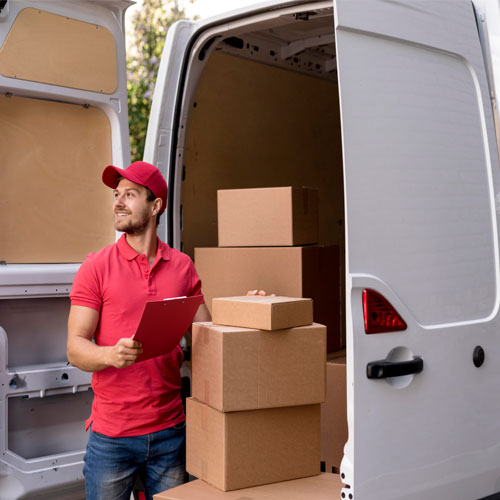 Packers & Movers
Looking for packers & movers in Navi Mumbai ? At AYS, we are trusted packers and movers and can assist you on the domestic front. If you are looking for house shifting services or office shifting services in Navi Mumbai, we are a cost-efficient service provider and promising solutions that are well-coordinated and organised to fit your time parameters and comfort. The obvious reason you are on this page is you have looked for Packers & Movers in Navi Mumbai. Shifting places with all the necessary logistics is a very tiring and cumbersome process and at AYS we efficiently manage carton boxes for house shifting to transport and people resources. We also undertake office shifting services in Mumbai and adjoining cities.
At AYS, our expert packers and movers assist you with an easy and comfortable way of relocating. We efficiently undertake shifting assignments using the latest techniques in safe packing and handling your goods as well as easy transportation. We ensure total security and care in handling your goods and on-time deliveries. As packers & movers in Thane, we have done relocation exercises for many clients living in high rises and as well as in buildings with no-lifts. We adhere to all the necessary protocols of the society or commercial premises and ensure our team does work in the most professional and hushed manner, that we are just about doing our work and not creating a hindrance for other activities.
We are professional safe packers and movers and the best packers and movers in Navi Mumbai. We efficiently cater to services around – House Shifting Services
Our experts assist in packing every small object in your house with utmost care. We assign, differentiate and name objects according to categories for easy storing and unpacking.
Our team does the packing and unpacking of the assorted boxes and also help in laying out the objects as per your request, at your new location.
For fewer objects, we have mini trucks for house shifting for reasonable commercials.
Office Relocation Services
If you are looking for the best packers and movers in Navi Mumbai for your office shifting, we can be the right choice. At AYS, as an office relocation service, we are geared to help you shift your entire office stuff with the care and alacrity that you do not waste on any productive time. We analyse the work and give you an estimate on the time required to shift for local and interstate or intrastate relocation services.
We assist you with all the necessary permits and legal documentation for the entire relocation process, assuring you rely on us totally for your service.
Time-bound relocation
Less disruption in services
Nominal Packers & movers charges
We also provide the cheapest courier service in Mumbai. For our local clients, we are the trusted partners for all courier transactions. We have been able to assist offices, corporates and e-commerce companies with timely and assured deliveries.
Pet Relocation Services
Your pets are as special to us as they are to you. Our pet relocation services are carried with utmost care and hygiene. From transport, boarding and paperwork for local or intrastate, interstate or international relocation, we are experienced at fulfilling all the processes to see that your pet reunites with you safe and sound. Our team is dedicated to handling pets as well as the paperwork and nitty-gritty that are involved in the entire process. Our efficient teams make the process simple and short ensuring your pet is well taken care of during the transit.
If your search is for Packers and Movers in Ghansoli, Navi Mumbai, we are just around, for an office walk-in or call for addressing all your logistics needs. We are trusted and reliable logistics service providers and we aim to get your parcels to your destination in the shortest turnaround time with all the necessary care and efficiency. We are a one-stop solution for different logistics needs and you just have to experience our service once to have us as your regular logistic partner. We do not just make big claims but as a Packers and Movers in Ghansoli, Navi Mumbai, we invite you to start your logistic journey with us today.
We pack and move household luggage from Mumbai, Bangalore, Pune, Hyderabad and Delhi to any other city in India at a cost of INR 90 per KG for a minimum billing of INR 4,500 for which up to 50 kgs is packed and moved.
Contact Us